Vitamin complex
DEKAfib Vitamin Complex
Specifically for patients with cystic fibrosis - with A, D, E and K vitamins
Makes your life easier
DEKAfib for all ages
Available in soft gel capsules and liquid drops
No additives
No additives
DEKAfib does not contain allergens or any E additives!
Makes your life easier
DEKAfib makes your life easier
Available for everyone
DEKAfib is available for everyone
Vegetarian, kosher and halal too!
About cystic fibrosis
Cystic fibrosis (CF for short) is a genetically inherited disorder that can affect everyone. It is caused by the inheritance of faulty genes, however, as a genetic disease, it is not contagious, and the disease develops only in those who have inherited these (recessive) genes from both parents. Those who have inherited only one defective gene are called carriers. Patients with different types of cystic fibrosis can have extremely varied clinical symptoms. The treatment and severity of the disease can also be varied.
Symptoms of cystic fibrosis can appear both in neonatal age, in children or in adults, unfortunately at any age the symptoms can become visible. However, in recent years a new testing method was developed to identify and diagnose the disease in a very early age. Thanks to the testing in the neonatal age patients are identified early on and are on way to get the best available treatment lengthening their life expectancy.
The symptoms of cystic fibrosis are quite varied; however, the following can point to the diagnose:
Digestive problems
Short body-height, underdevelopment despite proper nutrition, weight loss despite proper food intake
Frequent ileus / intestinal clogging during neonatal age
Frequent coughing paired with thick mucus
Frequent pneumonia, or other infections affecting the lung
Cystic fibrosis can cause changes in several of our organs, but the main problems are caused in the lungs, intestinal tract (digestive process), pancreas and liver.
Lungs
The inner wall of the lungs is normally covered with a thin mucous membrane, so that the particles of dust and bacteria that do not belong there, which may still get in, cannot cause more problems by sticking there. However, in the case of CF patients, this mucus layer is thicker and stickier, it easily clogs the airways, and has the opposite effect: it also provides a breeding ground for the bacteria that enter, thus causing continuous infections.
Pancreas
As a result of cystic fibrosis inflammations and the continuous formation of scar tissue, the insulin production of the pancreas may also deteriorate, thus so-called CF diabetes may develop in those affected.
Intestines, bowels
The problems of the pancreas also cause issues in the intestines. In the absence of the enzymes it produces, the patients with cystic fibrosis cannot properly digest the food they eat, and the enzymes cannot reach the food due to the thick mucus present, so their body cannot break it down, the nutrients are not utilized. That is why it is important that people living with cystic fibrosis get adequate nutrition.
Due to the genetic nature of the disease, it is currently not curable, but with proper care and attention, the lifespan of people living with cystic fibrosis can be extended by decades. In addition, the neonatal testing that detects CF involvement in its earliest stages has already become available in many countries.
Thanks to the technological and healthcare development cystic fibrosis life expectancy in the developed world has improved a lot in the last few decades and is now decades longer than before. In the developed countries of the world it can be said that approximately 50% of CF patients live up to 40 years or more and children born and diagnosed early on with CF now have a much better outlook into their future.
What is DEKAfib?
DEKAfib is a vitamin complex explicitly for patients with cystic fibrosis. It helps them to consume the necessary amounts of nutrients despite their deficiencies on a daily basis.
Formulation according to CF Trust guidelines
DEKAfib's formula contains vitamin doses recommended by the Cystic Fibrosis Trust*
MCT technology for perfect absorption
For easier absorption DEKAfib utilizes MCT (medium chain triglyceride) technology.
Free of any allergens and additives
DEKAfib does not contain lactose, gluten, titanium dioxide and it is absolutely vegan.
Are you also affected? DEKAfib is a convenient solution!
If you are browsing this page then you are probably directly or indirectly affected by cystic fibrosis. With DEKAfib we wanted to achieve that CF patients have a chance for more freedom in their daily routines by ensuring that the necessary vitamin supplementation is easy to take and accessible for them at any point during the day.
We all know how difficult it is to live with a chronic condition or disease that requires continuous effort and rigorous treatment regime to maintain quality of life. With cystic fibrosis vitamin supplementation that could mean up to 8-10 capsules a day depending on the products. With DEKAfib however, it only takes 1-2 capsules/day or the equivalent number of liquid drops/day (see recommended dosage according to age) to cover the complete cystic fibrosis vitamins supplementation needs for the day. For babies or children with cystic fibrosis we have a liquid drops formula, making their lives easier too!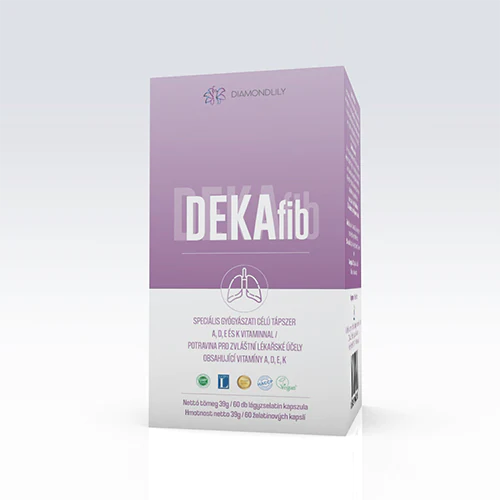 Quality Assured Manufacturing Process
During the creation of DEKAfib we wanted to make sure to have the best available materials and to avoid adding unnecessary additives to the formula. DEKAfib's A-D-E-K vitamin content is *formulated after the guidelines mutually developed by the Cystic Fibrosis Trust and ESPEN-ESPGHAN-ECFS.

Frequently Asked Questions
Learn more about the DEKAfib supplement and its role in our FAQ!